Temporary Bridging Loan - Limited Time Offer for Best SME Loan in Singapore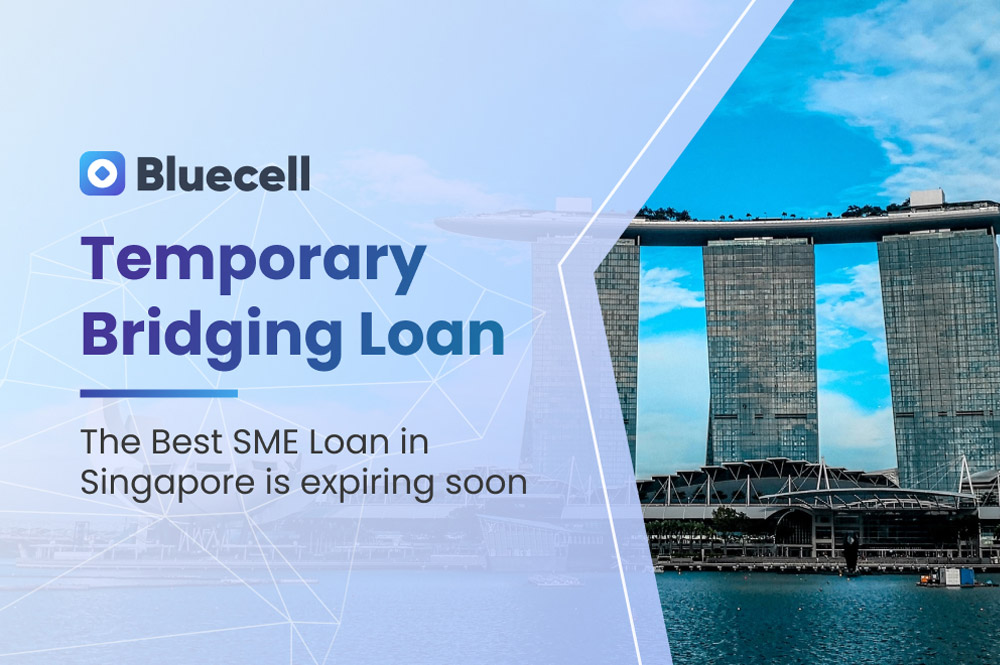 The current Covid times are forcing many companies to face the financial crunch and shortage of funds. To overcome these unstable situations and keep the businesses going, they can make use of the Temporary Bridging Loans.

What is Temporary Bridging Loan (TBL)?

As the name suggests Temporary Bridging Loans are the loans that help to bridge the gap between your financial requirements. This is a type of business loan which can be used to arrange the working capital for companies, while they are waiting for other financing to come in. A bridging loan is usually a short term financing option to help during urgent needs.

Funds from a bridging loan can be used for immediate and regular expenses such as paying the vendors or suppliers, or it can be used towards operational costs.
Temporary Bridging Loan Programme (TBLP) by Enterprise Singapore

TBLP is a government assisted financing scheme that was introduced by Enterprise Singapore in Apr 2020 in response to the COVID-19 outbreak and the economic slowdown which caused a lot of business loss to many companies. This helped SMEs to manage their immediate cash flow needs.

According to The Business Times report (Fri, Feb 05, 2021), In the year 2020 itself, "Enterprise Singapore worked with financial institutions to approve about 32,000 loans worth S$18 billion for 21,000 enterprises, amid the Covid-19 pandemic. "

Source: https://www.businesstimes.com.sg/government-economy/esg-approved-s18b-in-loans-to-21000-enterprises-last-year-amid-pandemic

Quick Facts about TBLP :
Loan Purpose - For business operations and general working capital needs.
Risk Sharing - Government's risk-sharing of 70% (previously 90%).
Max Loan Amount - The eligible companies can borrow up to S$3 million (Borrowers are subject to an overall borrower group limit of S$20 million for TBLP).
Loan Tenure - A max repayment period of 5 years.
Collateral Requirement - No collateral is required for the loan.
Interest Rate - The interest rate for the Temporary Bridging Loan Programme differs for each participating financial institution and is dependent on the risk assessment of the SME business, being capped at 5%.
Expiry Date - 30th Sep 2021.
Lenders - Offered by 19 participating financial institutions (PFIs) including major banks in Singapore.
Application - Companies can apply multiple times (New Applications and Top-Ups) with different PFIs, if within limit.
Approval - The approval of the TBL Application is subject to PFIs' credit assessment.


Eligibility
Business should be registered and operating in Singapore.
Business should have at least 30% local shareholdings by Singaporeans or Singapore Permanent Residents.


Source: https://www.enterprisesg.gov.sg/financial-assistance/loans-and-insurance/loans-and-insurance/temporary-bridging-loan-programme/overview


How can TBL help your Business

It can help to solve the immediate Cash Flow urgent needs during the difficult period:
Unforeseen circumstances could happen anytime. To keep the operations running, a bridging loan can help in such unexpected situations.
Businesses have recurring expenses (administrative & operational) like office rental, utility bills, staffing cost, payments to vendors or finance the purchase of goods from suppliers. TBL can help to support the required cash flow.
It can be used for other functions such as events and other activities for business expansion and general working capital requirements.


How to Apply for TBL with Bluecell

Bluecell is an Online platform for providing loans to SMEs. We can help your company secure TBL financing fast due to our familiarity with the process. We have multiple lending partners who can be reached with just one application hence reducing the processing time substantially. The temporary bridging loans are easy to apply via online applications and often come with fast approvals.

Register here
SME Loans
Click here for more Information on related Articles: Resources