An Overview of Business Loan Interest Rates for SMEs in Singapore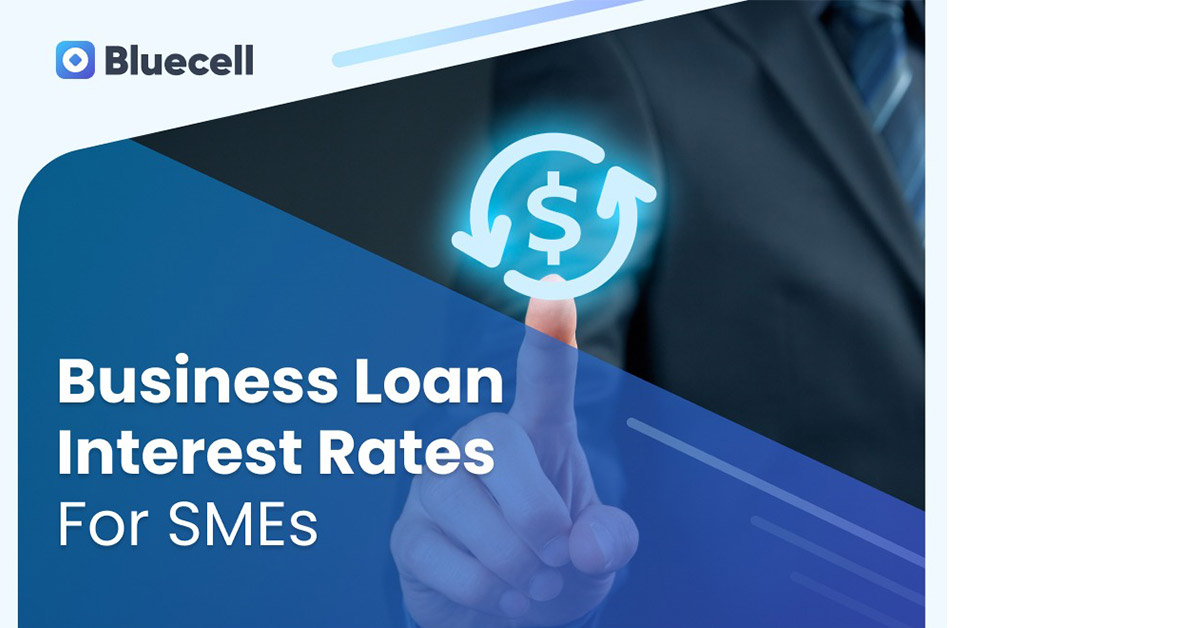 Every business needs ready cash in order to run their business. For operations on a large scale it is practically impossible to generate huge funds. At some point the company needs to source the funds from outside in the form of Business loans for the growth and success of their company.
Types of Business Loans

Business loans provide the company with working capital for their cash flow needs. They can be borrowed from:
Banks
Non-Bank Financial Institutions
MAS Licensed Crowdfunding Company
Alternative Lenders
Banks & Non-Bank Financial Institutions are more stringent with their approvals and credit risk analysis. The company should be more than one year old and fulfill other eligibility criteria to qualify for the Business Loan.

There are different types of business loans that are available in the market. SMEs have the flexibility to choose the type of loan and the tenure that best suits their requirements.
Unsecured Business Term Loan
Govt. Assisted loans- (Risk Sharing with Enterprise Singapore)

Temporary Bridging Loan (TBL)
Working Capital Loan (WCL)

Trade Financing Facility (e.g., Purchase Order Financing & Invoice Financing)
Commercial Property Loan
Equipment Financing
To know more about the above go to our details on

Alternative Lending, Trade Financing, Temporary Bridging Loan, SME Financing Guide

Business Loan Interest Rates

When you apply for a business loan, you will probably be confused by the types of interest calculations, the Effective Interest Rate "EIR" & Flat Interest Rate (also commonly known as Simple Interest Rate). The banks and non-bank financial institutions will use EIR for calculation due to regulation requirements and alternative lenders usually charge flat interest rates. But what are the differences between these 2 interest rates?

Effective Interest Rate

The EIR is the rate of interest actually paid on a loan as a result of compounding the interest over a given period of time. In simple explanation, it is charged on the reducing principal balance. There is no simple way of manual calculation, but the EIR calculators can be found online or contact us ([email protected] or WhatsApp 9326 0091) for assistance.

Effective Interest Rate Formula:

1 + (simple interest rate / number of compounding periods) ^ (number of compounding periods) – 1

Simple Illustration:
| | |
| --- | --- |
| Principal | S$ 100,000.00 |
| Tenure | 5 Years (60 Months) |
| Effective Interest Rate (Per Annum) | 4.50% |
| Estimated Flat Interest Rate (Per Annum) | 2.37% |
| Monthly Repayments | S$1,864.30 |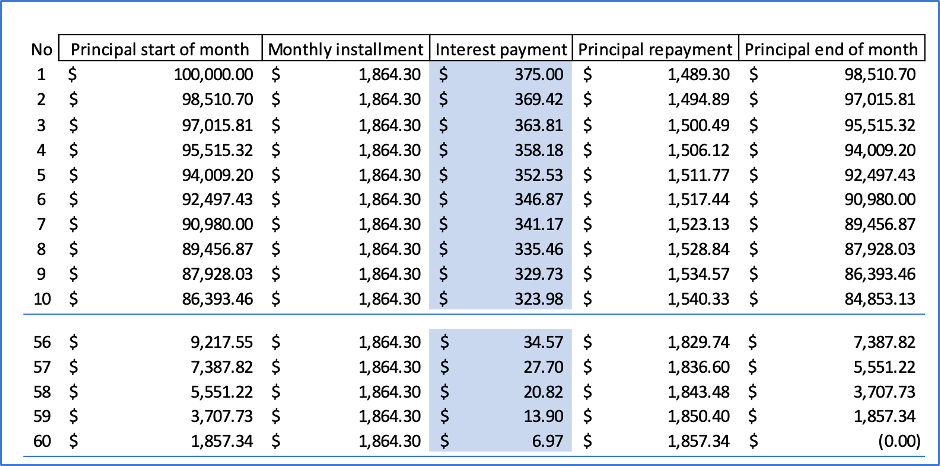 From the above illustration, the total interest payable (highlighted in Blue) is reducing on the monthly basis as the principle reduces, and for interest payable of the whole 5 Years (60 months) is S$11,858.12 and then we can derive the average interest payable on the yearly basis is S$2,371.6, therefore the estimated Flat Interest Rate is 2.37% (Average Yearly Interest Payable - S$2,371.6 ÷ Principal Loan Amount - S$100,000).

Flat Interest Rate
The Flat Interest computation is based on the initial original principle and the interest rate remains unchanged throughout the loan tenure.

Based on the above illustration, the Effective Interest Rate is about 1.89 times of Flat Interest Rate, and the Flat Interest Rate varies according to the actual approved loan tenure. But in general, the Effective Interest Rate is always around 2 times of Flat Interest Rate.

The interest rate for business loans normally depend on various factors such as:
1. Type of Loan Facility
2. Company Profile (e.g., Years of Establishment, Industries etc.)
3. Financial Performance (e.g. Revenue, Profitability, Networth, Cash Flow, Gearing etc.)
4. Company's existing Loan Repayment Track Records
5. Guarantors' personal Credit Bureau (CBS) Records
6. Type & Quality of Collaterals
7. Other factors
Some overview of Indicative Interest rates (it varies from time to time) for different types of SME financing is listed below:
General Types of SME Loans
Banks & Non-Bank Financial Institutions


Effective Interest Rate




Per Annum

Alternative Lenders




Flat Interest RatePer Month

Unsecured Business Term Loan
(In-house Loan)

7% - 12%
0.85% - 3%
TBL & WCL
(Risk Sharing with Enterprise Singapore)

Up to 5%
Not Available
Trade Financing Facility
(e.g., Purchase Order Financing & Invoice Financing)

4% - 8%
1% - 2%
Commercial Property Loan / Property Backed Loans
1.5% - 2.5%
0.5% - 1%
Equipment Financing
3% - 7%
Not Available


Important thing to take note, alternative lenders usually will calculate the interest on the monthly basis and the rates are higher than the banks and non-bank financial institutions, as they are willing to approve higher risk profiles of borrowers with urgent needs at a faster speed.

From our statistics, the start-ups, businesses with young establishments (less than 2 years) and companies with poor financial standing, can be approved at a small loan amount from our alternative lenders to solve their urgent cash flow needs.

The government assisted financing scheme - Temporary Bridging Loan is being extended by Enterprise Singapore (ESG). It is available for a limited period of time and is provided upon meeting eligibility criteria.
Click here Temporary Bridging Loan

Things to keep in mind before applying

As the lenders look at various criteria before providing loans, similarly the SMEs should also evaluate different aspects before applying for the loan.

The SMEs can consider the following before applying for loans:
Eligibility Requirements
Interest rate
Documents required
Application processing time
Collateral requirements
Are there any penalties for prepayment
Processing Fee and other charges involved
To choose the best loan, SMEs should select based on their business needs. If they require unsecured loans to meet short-term obligations or require large financing and working capital loans to expand their business or other financing instruments for purchasing an expensive asset, such as equipment or real estate. Based on the purpose of the funding, the type of loan can be decided. It is most important to compare the interest rates, fees involved and the loan tenors.

Bluecell Platform

Mostly while applying for business loans SMEs need money as quickly as possible. Since the traditional way of obtaining funds is slow and tedious, SMEs are turning towards online providers. The SMEs prefer working capital loans and invoice financing as these are available with fast approvals and low interest rates resulting in lower cost to their business.

Bluecell is an Online platform for providing loans to SMEs. We have multiple lending partners of different risk appetite catering to different financing standing backgrounds of borrowers and they can be reached with just one application hence reducing the processing time for getting loans. There are many lenders that offer different types of loans, but they have different criteria and required documents. You don't have to call up every bank or lender to check their rates and criteria. You can just apply on Bluecell Online platform to compare all SME business loans interest rates offered by various lenders and select the one that best suits your needs.

Register here
SME Loans
Click here for more Information on related Articles: Resources